Overview
The Local Government Boundary Commission for England (LGBCE) is asking for your views on proposed new electoral arrangements for North Northamptonshire.
New boundaries are being proposed for council wards. LGBCE is the independent body that draws these boundaries. It is reviewing North Northamptonshire to make sure councillors will represent about the same number of electors, and that ward arrangements will help the council work effectively.
The Commission has published proposals for changes to North Northamptonshire. It is proposing that there should be 68 councillors representing five single-member wards, twelve two-member wards and thirteen three-member wards. All wards will have different boundaries.
Proposed changes include:
Clear distinction between urban and village based wards for Finedon and Wellingborough.

Warmington and Cotterstock villages placed into a ward based on their nearest town of Oundle.
LGBCE want to know:
Do the proposed wards reflect local communities?

How do you think the proposals can be improved?

Are the names of the proposed wards right?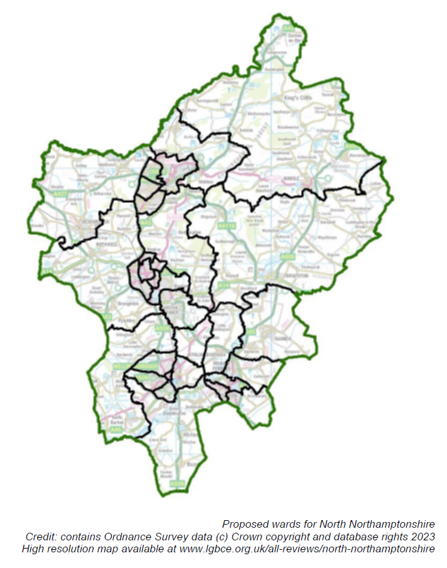 The Commission has a dedicated section on its website where you can see the detail of the proposals and comment on the names of wards, their boundaries and the number of councillors per ward. Visit: www.lgbce.org.uk/all-reviews/north-northamptonshire
The consultation will run for 10 weeks and will close on 7 August 2023.